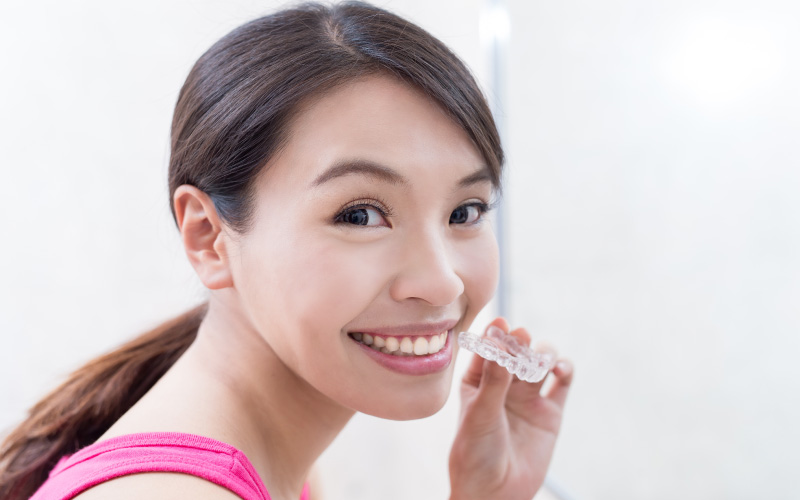 Getting a straighter smile has become easier than ever with the introduction of revolutionary clear aligner orthodontic options. But are they right for you and your smile? At Milltown Family Dentistry, we offer ClearCorrect™ clear orthodontics, and we think they're pretty great. Let's take a look at how they stack up against traditional metal braces when it comes to straightening your teeth.
ClearCorrect
Clear braces aren't braces in the way you're probably thinking. Instead of wires, bars, and brackets, clear orthodontics like ClearCorrect use clear plastic straightening trays to gently and gradually move your teeth into more ideal positions. ClearCorrect is great for patients with mild to moderate spacing or alignment issues, or even those who need to adjust their bite slightly. To start off, we design your goal smile together to make sure the treatment will get you where you want to be. The aligners are comfortable and barely noticeable, so most people won't even know you're wearing braces. Plus, they're removable! You won't even have to give up popcorn, sticky or hard foods, or anything else. Just take out the trays while you're eating or drinking, and pop them back in when you're done.
Benefits of Clear Braces
Close gaps, alleviate crowding, straighten crooked teeth, and even fix minor bite problems
Clear trays are barely noticeable
Smooth plastic material doesn't cut or irritate soft mouth tissue
Removable aligners let you eat, drink, brush, and floss like normal
Only check in with our team every 4-6 weeks and get your new trays
Finish your treatment in only about a year, instead of a few years like with metal braces
Metal Braces
Patients with more severe alignment and bite issues may still want to consider metal braces. They work by moving the root and crown of teeth separately, so the process is much longer than with aligner therapy. The wires, though thinner than ever before, are still noticeable. But brackets can be made in virtually any color, including clear and tooth-colored, so you don't have to give up your style during treatment.
Which Is Best for You?
The best way to determine the orthodontic treatment that's right for you is to bring you in for a consultation. Our team will look at your teeth, talk to you about your goals and lifestyle, and make a recommendation.
At Milltown Family Dentistry, we can provide complete ClearCorrect clear aligner therapy. If you need metal braces, we can make a recommendation for a great orthodontist. Ready to get started living life from behind a straighter, more beautiful smile? What's stopping you? Call today to schedule your orthodontics consultation!
Contact Us