Dental Implants in Carrboro, NC
Have you found that missing teeth are making everyday things like eating, smiling, and talking more difficult? You don't have to just live with this new way of life. Dental implants are a permanent missing teeth solution that can get you back to eating your favorite foods and talking and smiling with confidence again. Carrboro dentist Dr. Lambeth provides dental implant restorations that look natural, feel great, and function just like your other teeth.
Contact Us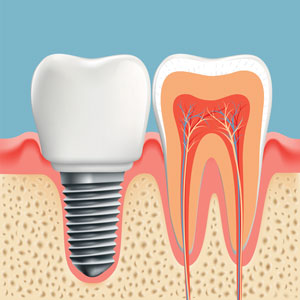 What Are Dental Implants?
Patients who are missing one or more teeth could benefit from dental implants. With implant dentistry, a dental implants dentist places a small titanium post into the jawbone in place of a missing tooth. The titanium is biocompatible, which means that over a period of a few months, it fuses with the bone. This allows the post to function as your new tooth root, so you have a solid foundation for a restoration that we'll then place on top.
---
Dental Implant Restorations
What exactly is the dental implant restoration? That depends on the number of teeth you're replacing with implants. At your consultation, Dr. Lambeth will go over the best restoration option for your situation and lifestyle.
Dental Crown – the best option for a single-tooth replacement; our crowns look and feel just like your surrounding natural teeth
Dental Bridge – great for one missing tooth or a couple in a row; a bridge connects to a crown on either side and has false teeth in place of the missing ones to "bridge the gap" left behind
Dentures – patients missing most or all teeth in an arch can use dental implants for denture stabilization; no more slipping, clicking, or using messy adhesives
---
Dental Implants Cost
Whether you're looking to replace a single missing tooth or are seeking denture alternatives, we know you also want to make sure that the option you choose fits into your budget. In addition to being insurance friendly, our office has a number of flexible financial options. We have short-term in-house payment plans as well as an in-house membership plan that can save you 20% on restorative dental treatments. Milltown Family Dentistry also accepts CareCredit, which essentially works like a credit card for your healthcare expenses. Call today and let our team help you determine the best option for your needs.
Call Today