Our Dental Office in Carrboro, NC
Our brand new, environmentally friendly dental office combines first-rate amenities and leading-edge tools to create a relaxing, modern experience for our patients. Each and every bit of our space has been designed with you in mind, and we invite you to make yourself at home. Looking forward to seeing your family at our dentist near you!
Be sure to check out our office with our 360 degree tour!
Make Appointment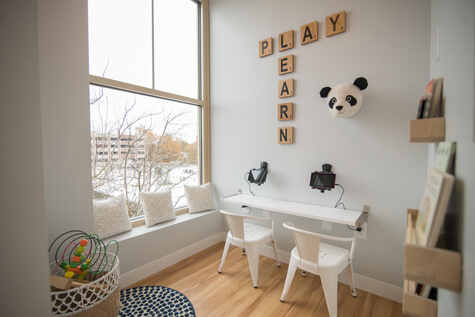 Patient Amenities
We aren't your average dental practice! We have a selection of deluxe amenities for you to enjoy and take advantage of throughout your visit.
Beverage Bar
Ceiling-Mounted TVs with Netflix
WiFi
Phone Charging Station
Noise Canceling Headphones
Blankets & Pillows
Warm Scented Towels
Kids Play Room
Nitrous Oxide & Oral Sedation
State-of-the-Art Technology
We only want want the best for our patients, and that's why we only use the latest and greatest dental technology. If you'd like to know more about any of our tools, please don't hesitate to ask!
Nomad® Handheld X-ray Device
Taking X-rays is easier and more comfortable using the portal Nomad® machine.This handy device takes digital X-rays, which emit significantly less radiation than their conventional counterparts. Digital X-rays are also friendlier on the environment since they don't require any chemical processing!
Intraoral Camera
Patient education and participation are important to us at Milltown Family Dentistry. We want you to play an active role in your own health care, and with the intraoral camera, we can do just that! This tool lets you see what we see by projecting images of your mouth onto a screen. With it, we're better able to show you any concerns and walk you through your treatment. Call our dentist near you with any questions you may have.
Dental Microscope
Our dental microscope has a variety of magnifying settings that allow us to examine your teeth and gums more closely and identify otherwise hard-to-spot issues. With such a detailed view of your oral health, we can offer you much more accurate diagnoses and precise treatment plans. We can also use it to take images of the inside of your mouth to walk you through our recommendations so you can take a more active role in your own health care.
DentalVibe
DentalVibe is a safe tool that simultaneously applies a soothing, gentle vibration to your gums while delivering anesthesia. The vibration works as a pain-blocking signal, significantly reducing discomfort from injections. DentalVibe is a great option for any patients with dental fear or anxiety.
Environmentally Friendly Practice
We have specially designed Milltown Family Dentistry to be an eco-friendly space that is gentle on the environment and safe for our patients.
Low Dose Radiation Digital X-rays with the NOMAD Machine
Lead-Free Aprons
BPA-Free Sealants
Secure, Paperless Patient Records
No VOC Paint Products
Mercury-Free Office
LED Lights
Schedule an Appointment