Restorative Dental Care
Whether you have a little bit of decay or you're missing multiple teeth, the Milltown Family Dentistry team can help you restore your teeth to their full health and function again. Our dentist near you offers a full line-up of restorative treatments to fix almost any problem you might have.
Learn More
Composite Fillings
When we detect decay during a routine exam, we remove it and fill the tooth. But unlike the silver fillings of the past, we use composite fillings. The composite materials are tooth-colored, so they look natural and don't stand out next to your other healthy teeth. Placing a composite filling is also easier than placing silver amalgam fillings. They require less prep work and we don't have to remove as much of the tooth structure. We're usually able to fill your tooth the same day you come in for your exam.
Dental Crowns & Dental Bridges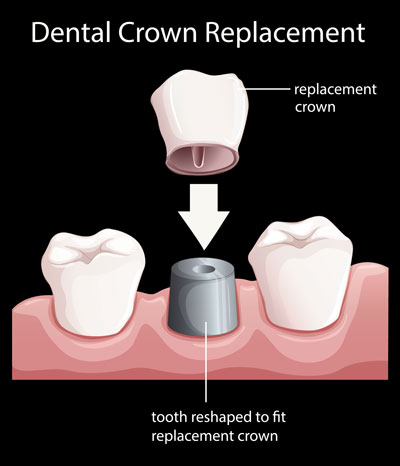 We use dental crowns for a number of restorative reasons. If you have a severe chip or crack, we can top your tooth with a crown to keep bacteria out and eliminate the sensitivity you're likely experiencing. If we perform a root canal, we place a crown afterward to keep out future infections and add some strength to the tooth. We can also use a crown to cover a large filling and ensure that your bite isn't changed.
If you replaced missing teeth with dental implants, we can provide your dental implant restoration to complete the process. The implant itself is a small titanium post placed into the jawbone in place of a missing tooth. Once the fusion is complete, visit our office for your restoration. If it's a single tooth implant, we'll top it with a dental crown. If you replaced a couple of teeth in a row, we often recommend using a dental bridge, which is an appliance that connects to crowns on either side of a gap and has false teeth that sit in place of your missing teeth.
Oral Surgery
A severe toothache or sudden, extreme sensitivity could mean that you have an infected tooth. If the infection is bad enough, we may recommend a root canal. But don't worry; while the term "root canal" is associated with pain, we promise that you'll be comfortable throughout the procedure.
While we always want to save your natural teeth, sometimes that's not an option. If you need a tooth extraction, we will make sure that you're comfortable throughout the procedure.
Contact Us