Porcelain Veneers in Carrboro
No one should hate the smile they see in the mirror. If all you ever notice are the imperfections – a chip here or a gap there – consider using veneers to change your smile into one you love. The Milltown Family Dentistry team can use dental veneers to cover the imperfections you always hone in on. The change can be subtle or dramatic; it's up to you and your vision for your smile.
Contact Us
What Are Veneers?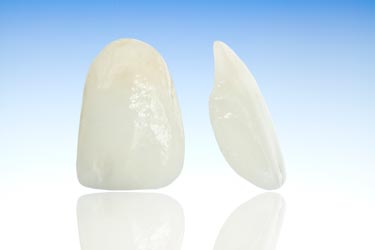 Dental veneers are thin shells of porcelain that are hand-crafted specifically for you. Once bonded to the front side of your teeth, veneers can change the teeth's size, shape, color, or overall look.
To begin the veneers process, we work with you to design your dream smile. Let us know what you want to change, and we'll use computer software to show you what the change would look like. At your first appointment, we also remove a thin layer of porcelain from the teeth getting veneers. This allows the bond between the veneers and your teeth to be as strong as possible. It also ensures a slim fit that feels natural – we don't want your veneers to feel big and bulky. We take impressions after removing the enamel, and we send the impressions and your new smile design to the lab. Once they create your veneers and send them back to us, we bring you in for a final fitting and bonding.
---
How We Use Veneers
We use porcelain veneers to cover a variety of aesthetic issues with teeth. Some of the most popular uses for veneers include:
Covering chips and cracks
Closing small gaps
Lengthening teeth
Reshaping teeth after a break
Whitening teeth too discolored for other whitening methods
When you come in for your consultation, we'll discuss the imperfections you want to correct. We can help you determine if veneers are the right cosmetic dental treatment for you. If they are, we will also work with you to design your new look.
---
Cost of Veneers
We understand that each of our patients has a unique budget that they have to keep in mind. How much your veneers cost will depend on how many teeth you're trying to correct. During your consultation appointment, we will also go over your expected out-of-pocket costs and your financial options. We never want you to miss out on a beautiful smile because of cost concerns, so let us help you fit veneers in your budget.
Call Today