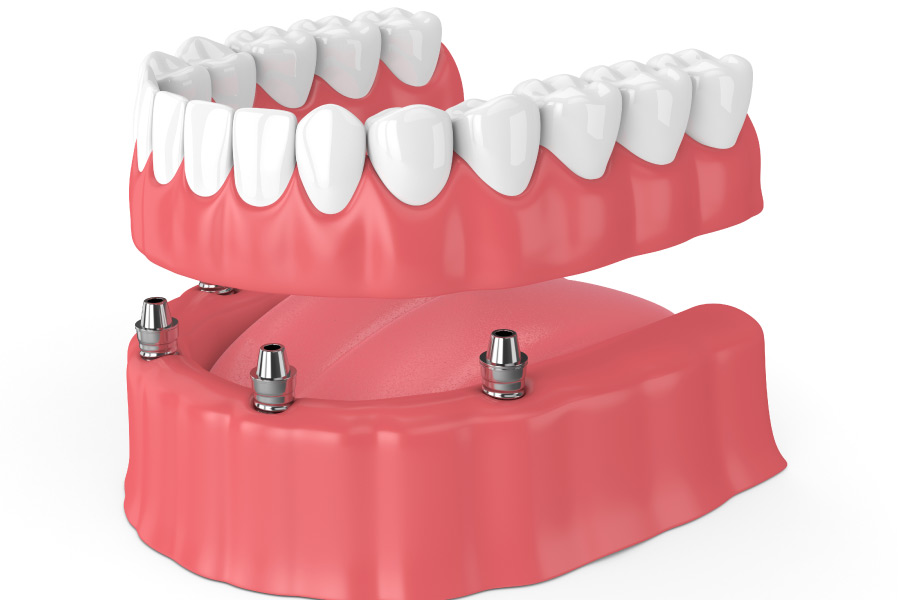 Dentures are a transformative dental prosthesis for people missing a full or partial arch of teeth. They can give you back a complete, beautiful smile. If done properly, most people won't even be able to tell they're fake teeth! It's important to note that not all dentures are created equally and it's crucial to find a type that best suits you. Some can affect speech and contribute to jawbone degradation. Keep reading to learn more about the different types of dentures and how they may affect you!
Traditional Dentures
Traditional dentures are typically secured using an extra-strength denture glue and adhesive. More often than not, the adhesive gives way throughout the day which can lead to the dentures not sitting properly over the gums. This can affect the way you speak and make it more difficult to carry on conversations without sounding different. Without root stimulation from natural teeth, the jawbone also starts to deteriorate over time. Since traditional dentures sit on top of the gums, they don't help stimulate the jawbone. With bone loss, traditional dentures won't fit properly anymore which can also affect your speech.
Implant-Supported Dentures
At Milltown Family Dentistry, we offer mini implant-supported dentures. Implants are small titanium posts that we place into the jawbone where the missing teeth once were. Over time, the implants fuse with the bone to provide a permanent and stable foundation for dentures or other tooth restorations to connect to. Once the denture is secured onto the implants, it will not budge or slide around. You shouldn't have to deal with dentures slipping and sliding around in your mouth affecting your speech and your smile confidence. After you snap your dentures into place, you can eat and talk with ease!
Benefits of implant-supported dentures:
Dentures stay securely in place
Eat without fear of dentures falling out
Improved jawbone health
Natural-looking results
No speech issues
Snap dentures into place with ease
Ready to replace your missing teeth and get back to enjoying a complete smile? Contact Milltown Family Dentistry today. We'd love to help!
Contact Us