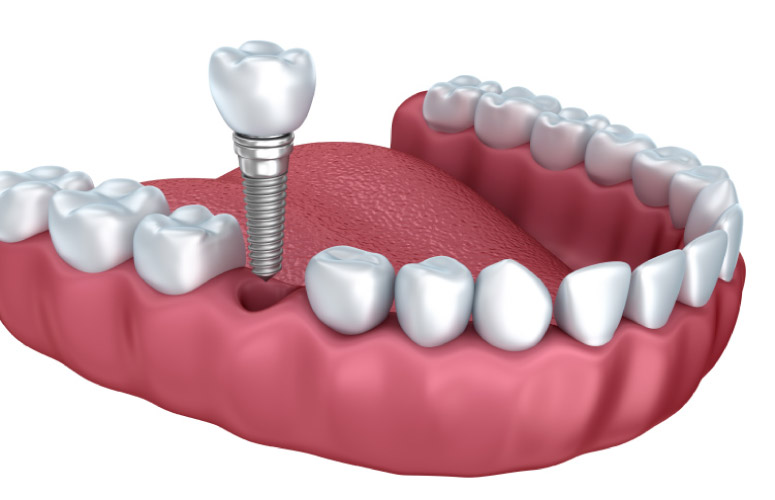 If you are missing one or multiple teeth, you can have your smile restored with dental implants. What are they? Dental implants are small posts that go into your jawbone, replacing tooth roots, so restorations like crowns, bridges, or dentures can fit on top. The benefit of dental implants is that they provide a steady foundation for restorations, so they feel natural. Here's what else you should know:
Most People with Missing Teeth Are Candidates for Dental Implants
Most people are able to get dental implants if they need them, though there are certain things we'll look for here at Milltown Family Dentistry. To qualify for implants, you will need good jawbone density, so the posts have good support, as well as good oral health. It also helps if you don't smoke, you haven't been treated with medications that might suppress your immune system, and you don't have any autoimmune diseases.
The Implant Process Takes Up to Six Months
Once we put in your dental implants, it can take up to six months for the post to fully fuse with your jawbone. After that, a custom tooth restoration is designed to attach to the implant, and at your next appointment, the dental restoration is fit and connected.
Dental Implant Restorations Depend on Your Specific Needs
The kind of restoration you get depends on how many teeth you're missing. A dental crown is usually the best option for replacing single teeth, while dental bridges are used for one missing tooth or a few missing teeth in a row. If you're missing most or all of your teeth, dentures are the way to go. At your consultation with Dr. Lambeth, you'll learn what the best option is for you.
Dental Implants Are Safe
Dental implants are safe and effective, though not without risks. A loose dental implant can cause problems, which is why it's so important to go to a qualified doctor like Dr. Lambeth and the team at Milltown Family Dentistry. After the implant procedure, you will likely feel some discomfort, which an over-the-counter pain reliever can take care of. There might also be some bruising. Within 1-3 days following surgery, most patients feel normal and return to their routines.
Dental Implants at Milltown Family Dentistry
If you are missing one or more teeth, dental implants could be the best way to get your smile back. Schedule a consultation with Dr. Lambeth to learn more!
Contact Us