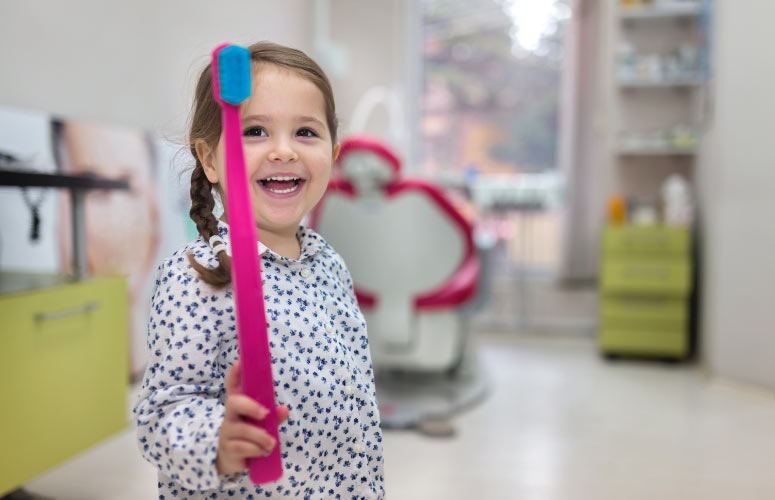 At Milltown Family Dentistry, our team relishes the opportunity to provide quality dental care to entire families. Many of our team have children ourselves, and so we know firsthand that taking a young child to a bustling place like a dentist's office can be nerve-wracking — for children and parents alike! To help ease your young one into the dentist's chair, we've put together some tips on how to prepare your child for the dentist.
1. Arrive Early
We designed our office with the comfort of families in mind. After one look at our child's play room, your kids will forget they had any reservations about visiting the dentist! We recommend arriving early to your child's dentist appointment to allow them to acclimate to our office and relax by playing until it's time for their appointment.
2. Practice at Home
It's never too young to teach your children about the importance of oral hygiene at home. A good at-home oral hygiene routine has two benefits: it familiarizes your kids with the process of cleaning teeth, and it reduces their risk for developing cavities! You can up the fun-factor by allowing your kids to choose the color of their toothbrushes, pick a wacky toothpaste flavor, or even designate a special song to be played when it's time to brush!
3. Answer Questions
We love how inquisitive our young patients are. Answering any questions your child may have about their visit to the dentist can help them feel prepared when the time comes to visit our office. Our team also takes extra care during appointments to explain to kids what will happen and give them an opportunity to ask questions.
4. Use the Buddy System
We find that kids may feel more comfortable about visiting the dentist if they get to watch mom, dad, or an older sibling go first. Additionally, parents are welcome to sit with their kids during their appointment.
Visit Us at Milltown Family Dentistry
We look forward to seeing you and your children at your next appointments. To ask our team any oral health questions or to schedule your next family block appointment, contact us today!
Contact Us