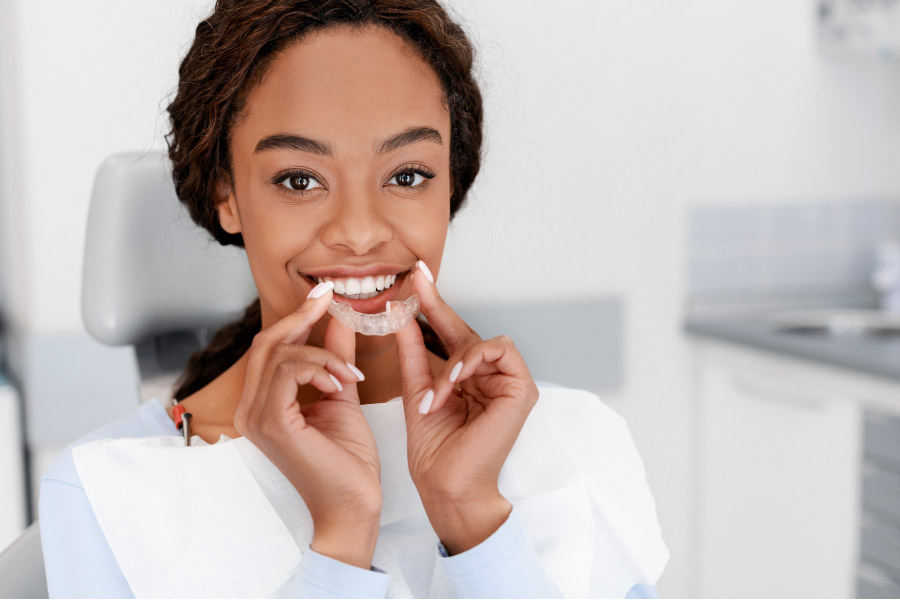 If you're looking to straighten your smile, you're probably wondering if you should choose between clear aligners or traditional metal braces. At Milltown Family Dentistry, we proudly offer our patients ClearCorrect orthodontic therapy. Below are some of the benefits of clear aligner therapy, and how they work differently than traditional metal braces.
What Is Clear Aligner Orthodontic Therapy?
Crooked teeth don't just affect the appearance of your smile. Depending on how crooked your teeth are, they can make it tougher to properly clean and maintain them, increasing your chances of developing cavities or decay.
Instead of brackets and wires, clear aligners use custom-made, computer-generated plastic aligners that gently and discreetly shift your teeth into their desired positions over time. Every two weeks, you'll receive new aligners to wear, which you're required to have on all day except for during meal times and when brushing and flossing your teeth.
What Can Clear Aligners Fix?
Clear aligners are designed for adult patients who have overcrowded, crooked, unevenly spaced, or gapped teeth. They can also be used to fix underbites, crossbites, and open bites.
Clear aligners cover most common orthodontic problems, but if you have more advanced orthodontic issues, traditional braces may be your best bet. It's best to have a consultation with your dentist to determine which option is best for you!
Benefits of Clear Aligner Orthodontic Therapy
Clear aligners are composed of thin plastic, which makes them easy to slip over your teeth and shift your teeth without anyone else noticing you're even wearing them. Because they don't involve wires and brackets and are removable, you don't need to make any special considerations when it comes to eating certain foods or having to maintain your brushing and flossing routine. In fact, you really don't need to change many of your habits when you wear clear aligners, although you should be diligent about wearing them and cleaning them so you can stay on track with your treatment.
Clear Aligners in Carrboro, North Carolina
Ready to have the smile of your dreams? Schedule a consultation with our staff at Milltown Family Dentistry! Be sure to check out our payment page to learn more about our financing options.
Contact Us